Rope-making to Pastoral Farming
Rope-making to Pastoral Farming: Life and Times of Thomas & Sarah Clark
An early period of Hawkes Bay history is captured in this publication of 'Life and Time of Thomas and Sarah Clark'. Thomas established a large pastoral farming operation in Eskdale, near Napier from 1899 following the purchase of the 'Hedgeley Estate' from the Carr family. The story includes sections on:
the family's early life in Bristol where Thomas was a successful rope-maker.
the move to New Zealand and their eldest son as one of the first students at Lincoln College.
initial farming interests at Rongotea, near Palmerston North.
the loss of a son-in law in World War 1 and the subsequent building of the Eskdale Memorial Church for all serviceman of the local district who had lost their lives.
the impact of the 1931 Earthquake on the family, their homes and the vivid recollections of that event. 
Thomas' strong commitment to the community — support of France House, and land for Eskdale Park.
Thomas' purchase of land in Taupo — a Clark connection which has been uninterrupted for 110 years.
the life and times of their children and grand-children and later generations, many of whom still live in the region.
The story includes many photographs of the life, and apparel of the different time periods.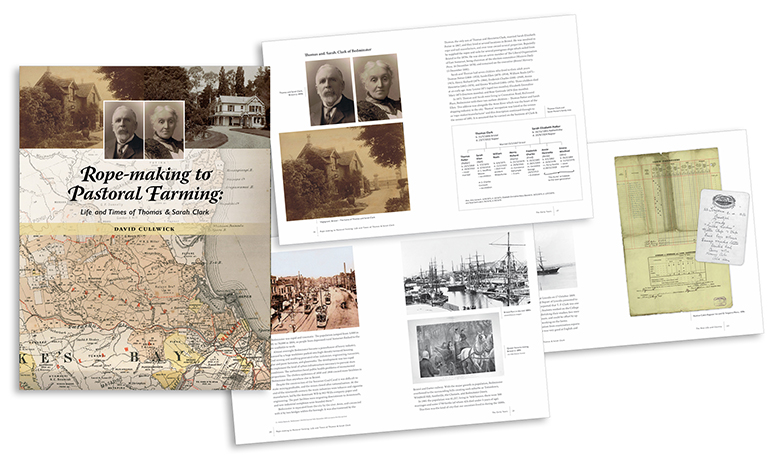 ---
Cover design, page typesetting, photographic retouching and print production for Rope-making to Pastoral Farming: Life and Times of Thomas & Sarah Clark. By author David Cullwick

For copies of this book, please contact author David Cullwick